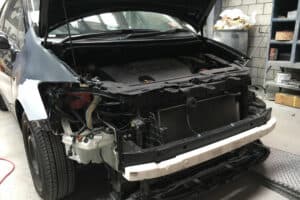 Springvale's Premium Accident Repairs Service
Stud Road Panels has a longstanding reputation for providing Springvale motorists with a premium car body repairs service. Our highly skilled and experienced team utilises the latest technology to ensure we can fix damage of all kinds. Our level of care and commitment ensures that you can trust us to bring your vehicle back to original condition if not better than before the collision.
We provide a comprehensive service suite, including body modifications, car restorations and, of course, damage resulting from collisions. Our years of experience means that we can rectify damage of all kinds to all makes and models. Regardless of whether you drive an old Hyundai, the latest Subaru or even a classic – we can fix it for you.
Our garage is located in Dandenong and conveniently situated to service motorists from Springvale, Noble Park and beyond.
A Top Class Panel Beaters Service for the Best Price
We understand the frustration of being involved in a collision, and we want to make the situation much easier for you. Therefore, when you come to Stud Road Panels to fix your vehicle, you will enjoy a streamlined experienced that ensures your vehicle is back to its original aesthetic in no time.
This is because of one thing: we don't view you and your vehicle as another number. We want to ensure you are totally satisfied with our service and that your vehicle meets our rigorous satisfaction standard before you drive away.
We Take Pride in the Work We Do
We don't skip out on the job at hand. Regardless of the size of the collision: whether it be a small indent or a large bodily smash, we will fix it with skill, efficiency and a high level of courtesy. We want you to know that we have you and your vehicle's best interests close at heart, as we believe that accidents are an unfortunate part of life, and that the experience's frustration shouldn't have to be continued.
Call Us for First Class Smash Repairs in Springvale
If you would like to book your vehicle in for our first class car body repair service, or would like to find out more about what we do here, simply get in contact with our friendly and professional team.
We care about your vehicle and want you to feel completely at ease leaving it with our experts, so if you have any enquiries about our service we will be more than happy to assist you with them.
Call us on (03) 9792 4913 or submit an enquiry form via our contact page and we will get back to you with all the information you require.
Related links: