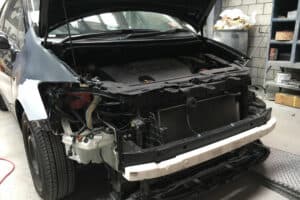 Rowville's Comprehensive Car Body Repair Service
Stud Road Panels is a premium panel beaters providing Rowville motorists with a first class service. Our highly skilled, experienced and competent technicians have the skills and ability to bring your vehicle back to its original aesthetic condition. We care about your vehicle, and we work hard to bring it back to pristine condition.
We provide a full and comprehensive service. We have the capacity to provide car body repairs, vehicle restorations, bumper restoration and more. We take pride in the service we offer – this is our true passion and we complete each job with skill and efficiency.
We understand that being in a collision is a highly frustrating and unfortunate experience. Therefore, we work hard on your behalf to streamline the process and have your vehicle back at full capacity in no time.
We are able to service all makes and models of vehicle. Regardless of whether you drive a hatchback, sedan or have a fleet of trucks in need of fixing – we can do it for you. Our technicians have years of experience in dealing with damage of all kinds, and will fix your vehicle with skill and courtesy.
Located in Dandenong, we are conveniently situated to service Rowville motorists.
A Top Class Smash Repairs Service
What sets our garage apart from lesser providers is our level of care and commitment. We don't see your vehicle as another dollar: we take the time and care to ensure your vehicle is back at full running capacity, with its aesthetic condition in top order. We love what we do here at Stud Road Panels, and we take pride in ensuring your car is running at its best.
We leave no stone unturned when fixing Rowville vehicles: regardless of whether it's a large scale collision or a little dint, we will work hard and efficiently to have it back in proper working order.
Call Our Team for Accident Repairs in Rowville
Our team is ready bring in your vehicle and restore it to proper working condition. We understand that this is a very frustrating experience for you, so we will ensure that the process is as smooth and streamlined as possible.
We are committed to providing Rowville motorists with an impeccable service standard, and will be more than happy to book in your vehicle for a service or assist you with any restoration enquiries.
If you would like to book in your vehicle or find out more about our service, simply get in contact with our garage. Call us on (03) 9792 4913 or fill out an enquiry form via our contact page and we will reply with all the information you require for the full restoration of your beloved vehicle.
Related links: