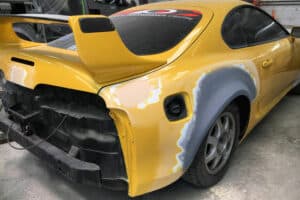 A First Class Car Body Repair Service in Noble Park
Stud Road Panels has earned a reputation as a first class accident repairs service operating in Melbourne's southeast. Providing a cutting-edge service for a comprehensive range of makes and models, you can guarantee that when you choose us for your vehicle repairs, we will have it to its full aesthetic potential in no time.
We provide a comprehensive service, specialising in accident repairs, restorations  and body modifications. Our professional panel beaters have years of experience in servicing anything from the latest models to classic cars and complete trucking fleets. Our level of care and commitment has seen us becoming recognised as one of the city's leading accident repair providers.
Located in Dandenong, we are conveniently situated to service Noble Park and Doveton motorists and their vehicles.
The Best Car Body Repair for the Best Price
Our team understands the frustrations of being in an accident, and we're here to make this annoying experience easier for you. So, when you come to us for your smash repairs service, you will enjoy a streamlined experience that ensures your vehicle will be looking good as new in no time.
We don't see your beloved car as another number or something to quickly fix up and get back out the door – we care about providing your vehicle with the very best treatment. We stand by this regardless of whether it is your priceless Bentley or beat-up Commodore.
We Take Pride in Our Service
Our highly-skilled, experienced and dedicated team uses the latest technology in order to see that all vehicles return their to original aesthetic condition, in fact we aim to make it look even better than before. Our dedicated and experienced team in Noble Park can fix all kinds of damage a vehicle can incur.
You name it, we've fixed it. We can mend anything from small dints to larger bodily damage, and always ensure we do so with courtesy and the highest level of efficiency.
Call Our Noble Park Team to Book Your Vehicle
If you have experienced the unpleasantries of being in a collision and require a seamless resolution, or would like to find out more about the service we provide, please don't hesitate to get in contact with our team.
Our team is on hand to help Noble Park motorists with all their vehicle enquiries, and will be happy to book your vehicle in for a fast, streamlined service.
Simply give our friendly team a call on (03) 9792 4913 or fill out an enquiry form on our contact page. We will get back to you as soon as possible and with all the information you require regarding your booking at our Dandenong garage.
Related links: