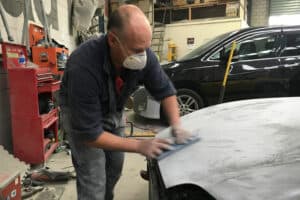 Car Body Repairs and Panel Beater – Keysborough
Stud Road Panels is a top class accident repairs service located in Dandenong in Melbourne's south east. Providing cutting-edge restorations for a full range of vehicle styles and manufacturers, when you choose our team for your smash repairs, you know you will be dealing with the best in the business.
We offer a comprehensive service, specialising in car restorations, body modifications and damage resulting from accidents. Our team of experts panel beaters have years of experience in servicing anything from classic Jags to new models and complete truck fleets. Our level of dedication and attention to detail has helped us build a reputation as one of Melbourne's leading restorations services.
Operating our of our Dandenong garage, we are conveniently situated to work with vehicles from Keysborough, Hampton Park, Endeavour Hills and beyond.
Top Class Service, Outstanding Value for Money
We fully understand that being involved in a driving incident is a highly frustrating, unwanted experience, and the last thing we want to do is make it any more difficult for you. Therefore, when you choose our team for your smash repairs service, you will benefit from the best of the best in service for the most outstanding value for money.
This is because we don't view you or your vehicle as another number – we see it as something extremely important to you, thus deserving top quality treatment. We stick by this ethos regardless of whether it's an old Commodore or a classic Aston Martin.
We Care About Your Vehicle
Our highly skilled, trained and experienced team uses the finest technology to ensure that all vehicles are stores to their full capacity, if not better than before the incident. Our years of experience means that we have fixed vehicles with all kinds of damage. You name it – we've restored it, and our team of talented repairs professionals know what is needed to ensure your vehicle is back to its original condition, if not finer than before.
So, when you choose our team in Keysborough  for your service, you know you will be choosing a team who has you, and your vehicle's, best interests at heart.
Contact Us Today
Our friendly Keysborough team is always on-hand to assist you with your queries regarding our service. We know that being involved in a car accident is a highly frustrating event that requires a quick, transparent resolution.
If you have been involved in an accident and require the services of Melbourne's top restorations experts, don't hesitate to get in contact with Stud Road Panels – we've got you covered.
We are dedicated to providing an impeccable standard of service for our valued community of motorists, and will be happy to answer any questions you have or book your vehicle in for a service at a time that is most suitable for you.
Send us an enquiry message or call us on (03) 9792 4913 and one of our team will assist you with all of you enquiries.
Related links: