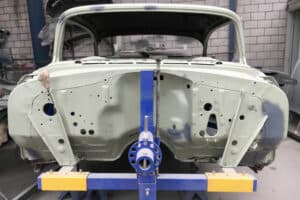 We Offer Hallam Motorists A Premium Car Body Repair Service
We proudly provide Melbourne's southeastern suburbs with a premium panel beaters service. We provide restorations for all vehicle makes and models, offering our valued clients the assurance that when they choose us for their service, it is in the most capable of hands.
We offer a comprehensive suite of services, specialising in smash repairs, body modifications and restorations. With decades of experience combined amongst our team, you can rest with the knowledge that we will restore your vehicle, regardless of its age, make or model. Our skills and breadth of experience has earned our team a reputation as one of Melbourne's finest.
We work hard to ensure your vehicle is working at full capacity. What's more, we provide our list of jobs for an outstanding price, as we understand this unfortunate situation is not one you want to break the bank over. Our professional restorations team uses cutting-edge equipment and the latest industry knowledge to ensure your vehicle is as good as new.
Located at Stud Road, Dandenong, we are capable of servicing motorists from Hallam, Doveton, Endeavour Hills and beyond. If you're looking for Melbourne's premier repairs team, you've found them right here.
We Offer A Highly Personalised Accident Repairs Service in Hallam
Our highly skilled, qualified and experienced professionals work to deliver a highly personalised service for each service we provide, with no same approach taken to different vehicles and their requirements. We know that your vehicle is very important to you, and therefore we take a specialised approach to all smash repairs.
What's more, our team receives consistent upskilling, to ensure that we are ahead of the curb and equipped with state of the art technology. The result? The most comprehensive and advanced service operating in Melbourne's southeast.
Book Our Team Today
If you are interested in booking your vehicle in for a service with our experts in Hallam, or would like to find out more about a particular service we provide, simply get in contact with our team.
We are committed to providing an impeccable standard of communication, and will be happy to answer any questions you have or book your vehicle in at a time that suits you best.
Simply call us on (03) 9792 4913 or message us via our contact page. We will get back to you as soon as possible and with all the information you require.
Related links: